Polperro Wreckers
In August 2009 five members of the Polperro Fishermen's Choir met to form an 'afterglow' singing group with the idea of enjoying a 'sing along' after the choir's Wednesday evening practice sessions or after the choir had performed one of its many concerts. Fifteen members of the choir attended the first afterglow practice session and the group quickly adopted the name 'Polperro Wreckers' with the first gig being held just prior to Christmas 2009.
The practice sessions have themselves become performances enjoyed by both visitors and locals alike singing along to a mixture of Cornish, Shanty, Folk, and Sixties numbers. The Wreckers are all about letting their hair down and having fun. They have now performed at various venues in Cornwall and Devon with charities such as the RNLI, Shelter Box, British Heart Foundation, Children's Hospice SW, Cornwall Air Ambulance and local charities including the Fishermen's Choir benefiting as a result.
At about 9 pm or so on most Wednesday evenings (unless the choir is busy elsewhere), the Wreckers can be found enjoying themselves in a local pub or club in Polperro, or sometimes on the Big Green. Check below for details.
Polperro Wreckers News and Events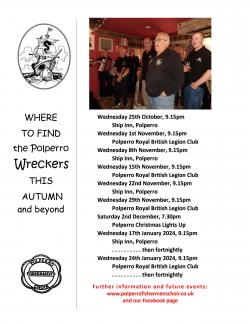 WHERE TO FIND THE WRECKERS NEXT
From 25 Oct 2023 to 31 Jan 2024
The Wreckers have been looking forward to settling back into the weekly gigs in Polperro, alternating between the Ship Inn and the Royal British Legion Club. We'll also be singing at the Polperro Christmas lights event on Saturday 2nd December but, after that, the choir is very busy, so the Wreckers won't be back in Polperro until the new year. All the details are in the flyer, with an easier-to-read PDF version at the link below.
Click here for a large version of the flyer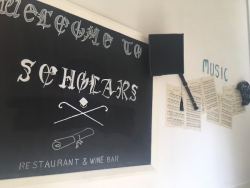 FUN AND FESTIVE SONGS AT SCHOLARS, ST GERMANS
13 Dec 2023
7.30pm
Back to skool for the Wreckers! We're appearing at Scholars, a unique and quirky restaurant and wine bar based in an old school building dating back to 1894. It's in Church Street, St Germans, Cornwall PL12 5LG, and we'll be singing lots of Wreckers favourites while helping you get in the Christmas mood by singing a few festive songs as well. Tickets (£10), which include a hot supper, are available from St Germans shop and from Scholars (01503 230600).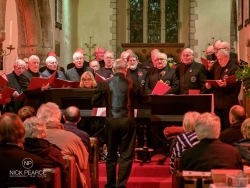 ST KEYNE AT CHRISTMAS
20 Dec 2023
7.30pm
St Keyne Church is a lovely place for a concert, and we are really looking forward to singing there again this year. According to legend St Keyne was a princess who lived like a hermit and was responsible for the construction of St Keyne "wishing" well just outside the village, so let's all wish for good health and happiness in these challenging times! The Wreckers will pop up in the village hall afterwards, too. Copyright photo by kind permission of Nick Pearce Photography and Film (01579 344492).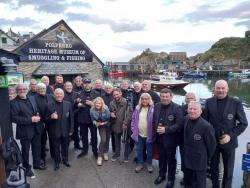 Centenary Film
From 25 Dec 2023 to 31 Dec 2023
Filming for the forthcoming Centenary Film "The Magic of Polperro" This was the brainchild of Phil Carrigan the Choir's Musical Director, who thought it would be only fitting to mark this fantastic milestone and add to the rich history of the choir in its 100th year. Film Crew Kirsten Hintner & Martin Baker. Drone Pilot Steve Marrison (SJM Imaging) Directed by Kirsten Hintner. (Kirsten Hintner Productions) "The Magic of Polperro" Music by Lorraine Forsdick. Producer MD. Phil Carrigan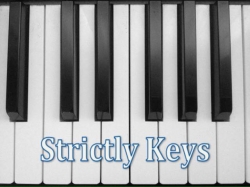 STRICTLY KEYS FOR YOUR PARTY!
From 1 Jan 2024 to 3 Mar 2024
Available now and all year
The Choir and the Wreckers are extremely lucky to have two such talented and dedicated musicians taking part in everything that we do. You can now enjoy their talent yourself! Phil (our musical director) and Lorraine (our accompanist / composer) will bring their two keyboards with them and entertain you at dinners, parties, weddings and other events. Their album is now available, with a percentage of the proceeds being donated to the choir. You can find out more by clicking the link below, calling 07506 025858 or emailing keysstrictly640@gmail.com.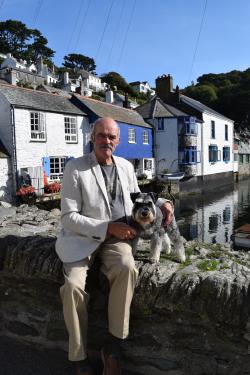 PHIL CARRIGAN'S HERMIE BOOKS
From 2 Jan 2024 to 1 Mar 2024
Available NOW!
Our multi-talented musical director is also an author and has published several lovely well-illustrated stories - even including Polperro Fishermen's Choir and the Wreckers transformed into rather naughty singing black bunnies in 'Honey Bee Meadow'! Phil has written a lot of stories about Hermie, the cute Miniature Schnauzer who sometimes sleeps through our rehearsals. As usual he gets up to mischief in the books which include 'Hermie at the Beach' and 'Hermie's Big Date'. Click on the link below for full details.