Polperro Wreckers
In August 2009 five members of the Polperro Fishermen's Choir met to form an 'afterglow' singing group with the idea of enjoying a 'sing along' after the choir's Wednesday evening practice sessions or after the choir had performed one of its many concerts. Fifteen members of the choir attended the first afterglow practice session and the group quickly adopted the name 'Polperro Wreckers' with the first gig being held just prior to Christmas 2009.
The practice sessions have themselves become performances enjoyed by both visitors and locals alike singing along to a mixture of Cornish, Shanty, Folk, and Sixties numbers. The Wreckers are all about letting their hair down and having fun. They have now performed at various venues in Cornwall and Devon with charities such as the RNLI, Shelter Box, British Heart Foundation, Children's Hospice SW, Cornwall Air Ambulance and local charities including the Fishermen's Choir benefiting as a result.
At about 9.30pm on most Wednesday evenings (in normal times!), the Wreckers can often be found enjoying themselves in a local pub in Polperro. Check below for details.
Polperro Wreckers News and Events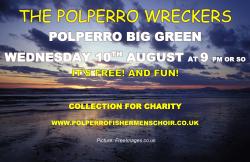 WRECKERS ON POLPERRO BIG GREEN
10 Aug 2022
9 pm
After the choir concert on the quay, come and join the Wreckers on Polperro Big Green at about 9pm on Wednesday. It will be getting dark but you should be able to see our white teeth against the black of our shirts - and we'll still make plenty of noise! The gig is free and fun, with a collection for charity. We'll be singing our popular mixture of Cornish songs, shanties, sixties numbers and other old favourites so come and join in. You might even be lucky enough to be offered a very rare extra-special deal on our CDs!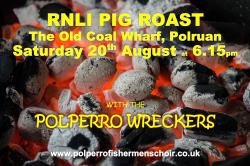 POLRUAN PIG ROAST
20 Aug 2022
6.15pm
The pig roast on the old coal wharf at Polruan is a fun event raising funds for the RNLI. As well as tasty food, the Wreckers will be singing a load of our favourite songs to entertain you. A ticket for supper is only a few pounds and there are good pubs nearby including the Russell Inn, a Wreckers' favourite - our Chairman is the landlord! Don't miss it. (Image by Rudy and Peter Skitterians on Pixabay)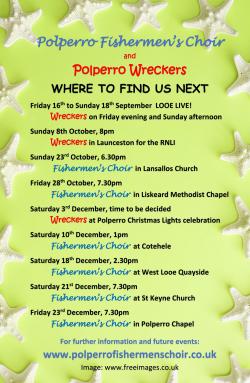 WHERE TO FIND US NEXT
From 16 Sep 2022 to 23 Dec 2022
This is where to find the Polperro Fishermen's Choir and the Wreckers during the Autumn and Christmas months. We'll be at various events around the region, helping to raise money for good causes, as well as supporting the Looe Live festival, the RNLI, the Royal British Legion and the National Trust. As always, we will finish the year with a free seasonal concert in our home base of Polperro Chapel. We'll also be busy rehearsing and recording some tracks which we hope will be issued as a CD soon so watch this space!
Click here for a large version of the flyer.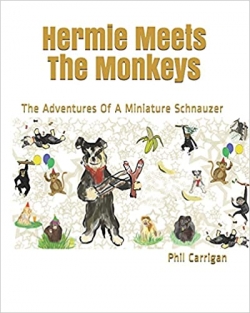 PHIL CARRIGAN'S HERMIE BOOKS
1 Oct 2022
Available NOW!
Our multi-talented musical director is also an author and has published several lovely well-illustrated stories - even including Polperro Fishermen's Choir and the Wreckers transformed into rather naughty singing black bunnies in 'Honey Bee Meadow'! In 'Hermie Meets The Monkeys' he visits the Wild Futures Monkey Sanctuary near Looe and, as usual, things take an unexpected turn! Click on the link below to see full details of Phil's books and place an order.
Click here for full details of the books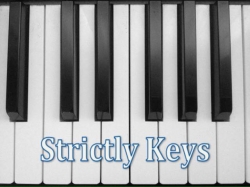 STRICTLY KEYS FOR YOUR PARTY!
3 Oct 2022
Available now and all year
The Choir and the Wreckers are extremely lucky to have two such talented and dedicated musicians taking part in everything that we do. You can now enjoy their talent yourself! Phil (our musical director) and Lorraine (our accompanist / composer) will bring their two keyboards with them and entertain you at dinners, parties, weddings and other events. Their album is now available, with a percentage of the proceeds being donated to the choir. You can find out more by clicking the link below, calling 07506 025858 or emailing keysstrictly640@gmail.com.