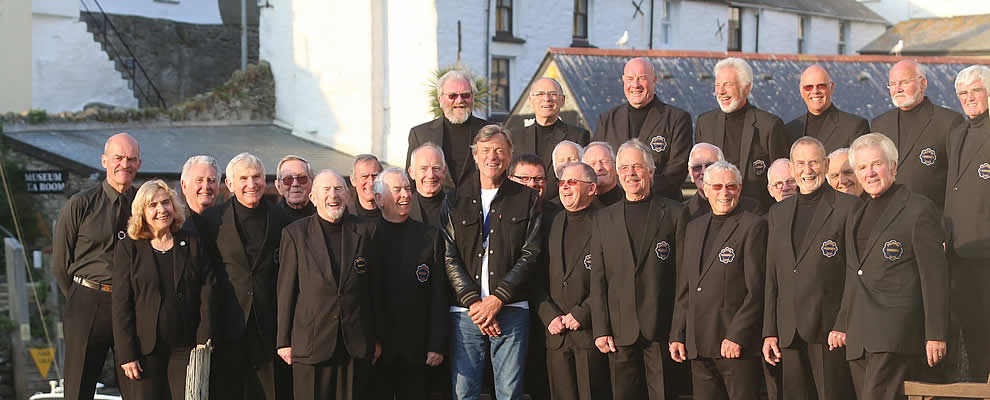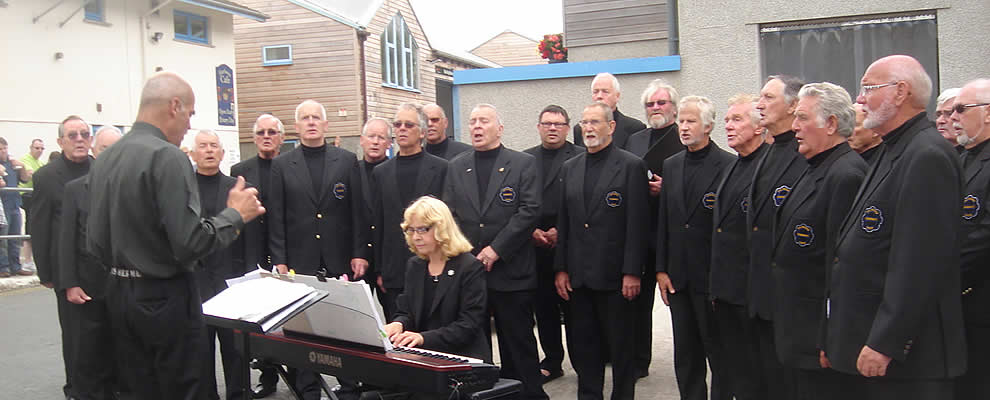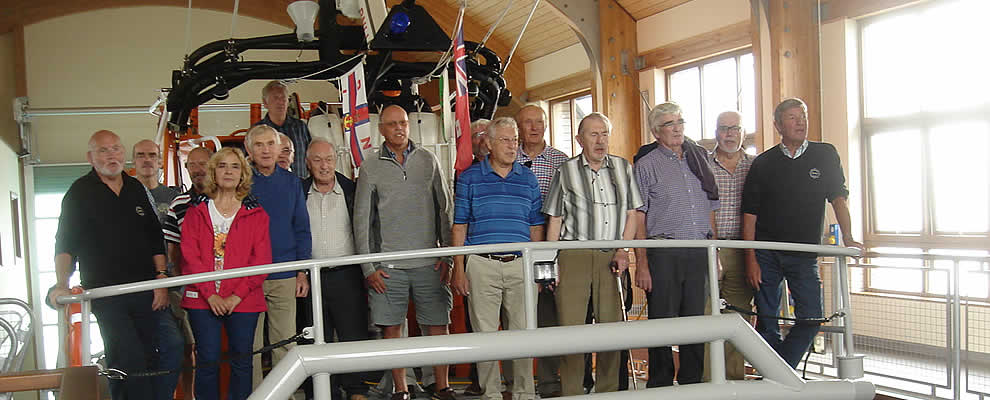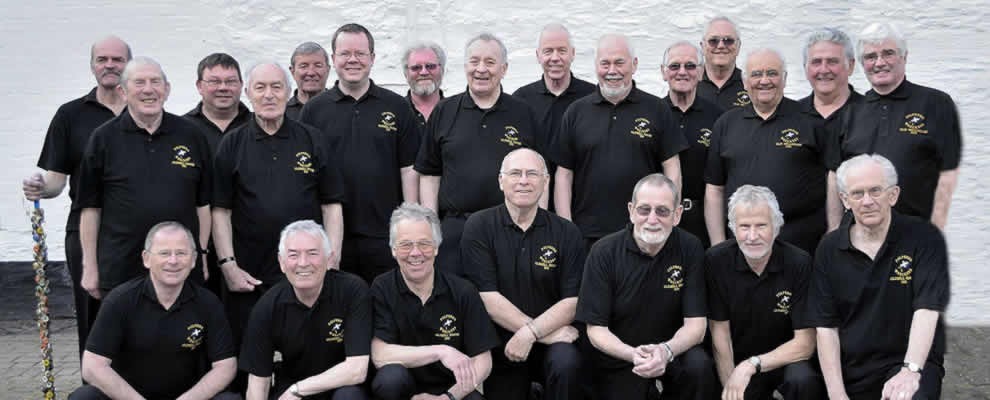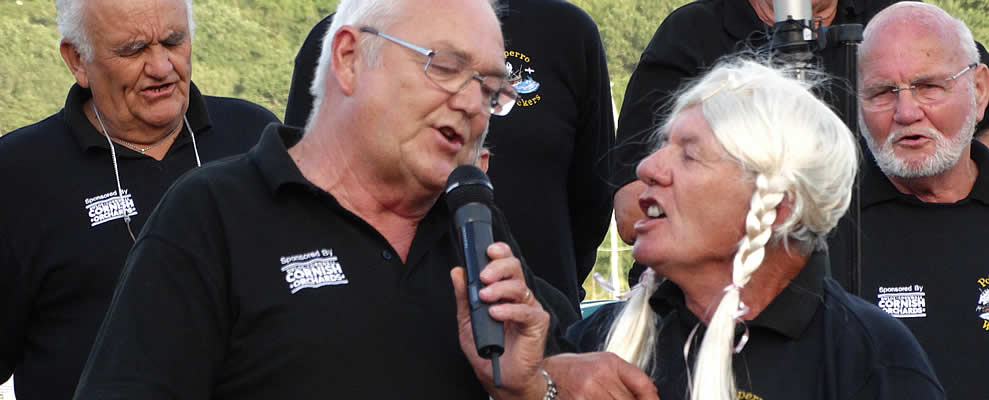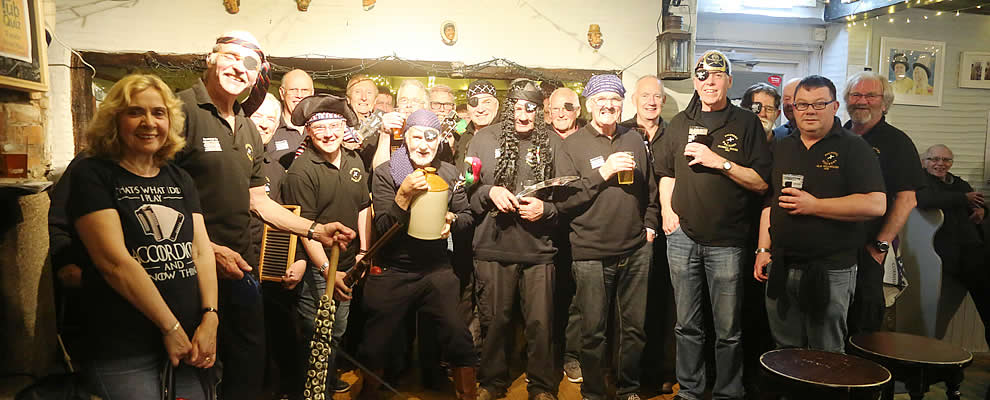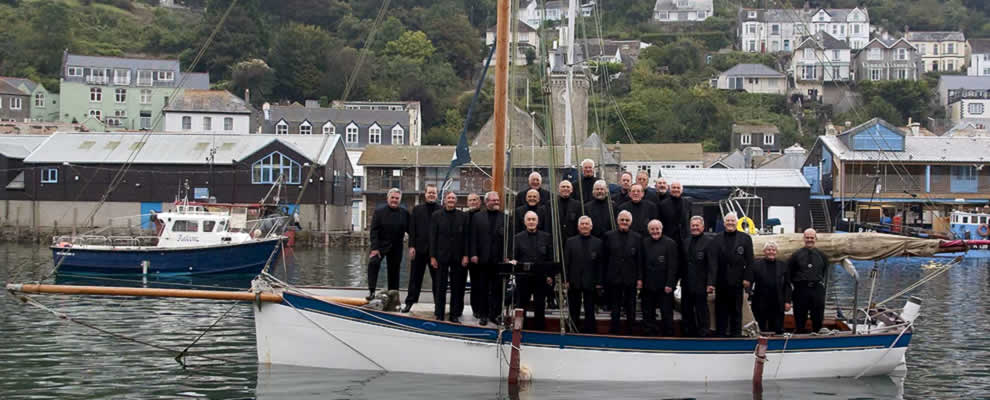 Polperro Wreckers
In August 2009 five members of the Polperro Fishermen's Choir met to form an "afterglow" singing group with the idea of enjoying a 'sing along' after the choir's Wednesday evening practice sessions or after the choir had performed one of its many concerts. Fifteen members of the choir attended the first "afterglow" practice session and the group quickly adopted the name "Polperro Wreckers" with the first 'Gig' being held just prior to Christmas 2009 - so 2019 is our tenth anniversary year.
The practice sessions have themselves become performances enjoyed by both visitors and locals alike singing along to a mixture of Cornish, Shanty, Folk, and Sixties numbers. The Wreckers are all about letting their hair down and having fun. They have now performed at various venues in Cornwall and Devon with charities such as the RNLI, Shelter Box, British Heart Foundation, Children's Hospice SW, Cornwall Air Ambulance and local charities including the Fishermen's Choir benefiting as a result.
At about 9.30pm on most Wednesday evenings throughout the year, the Wreckers can be found enjoying themselves in the lovely Old Mill House Inn in Polperro.
Polperro Wreckers News and Events
AT HOME IN POLPERRO

31 Jul 2019

7.30 pm

The choir will be 'at home' in Polperro for a free summer concert on 31st July. It will be by the Fish Quay (or in the Methodist Chapel if wet). The Stroke Association is one of the charities to benefit this year in memory of our great friend and singer, Ray Bowden. The Wreckers will be in the lovely Old Millhouse Inn afterwards. (The painting is by June Drysdale from our 1982 LP. These days we have best-selling CDs on offer!)
FREE CONCERTS IN POLPERRO

3 Jul 2019

7.30pm

This year, we plan to be 'at home' in Polperro for six of our famous free summer concerts. We have chosen Cornwall Air Ambulance and the Stroke Association as our charities for this year. The planned dates (all Wednesdays at 7.30pm) are: 3rd, 17th and 31st July; 14th and 28th August; and 4th September. The concerts will be in the open-air by Polperro Fish Quay, except for the last two which will be in Polperro Methodist Chapel. (Other concerts will also be moved to the Chapel if wet.) The WRECKERS will be in the Old Millhouse Inn after each concert.
WRECKERS IN POLPERRO

26 Jun 2019

9.30pm

June is here, the sea is blue, I wonder what there 'tiz to do? Well, the Wreckers will be in Polperro's Mill so come yourself and hear Pete's kazoo! We'll be in the lovely Old Millhouse Inn on Wednesday 26th June and every other Wednesday too. We'll be having a sing, a laugh and beer - and we hope to see you folk here!
WHERE TO FIND US IN JUNE

From 1 Jun 2019 to 30 Jun 2019

We are moving into the busy summer season for the choir and the Wreckers now. The choir will be performing in Pensilva, and also in the Looe lifeboat station. The Wreckers will be singing at the lovely Polperro Festival - and also having fun (and singing) in the Old Millhouse Inn every Wednesday evening as well.
PHIL CARRIGAN'S LOVELY BOOK!

31 Mar 2019

Our multi-talented musical director is a published author as well! Phil's latest book, Honey Bee Meadow, is a lovely well-illustrated story involving animals in mischief and magic. Children will love it but there are plenty of good jokes and musical puns for adults too. It has lots of local colour and recognisable characters - including Polperro Fishermen's Choir and the Wreckers transformed into rather naughty singing black bunnies!