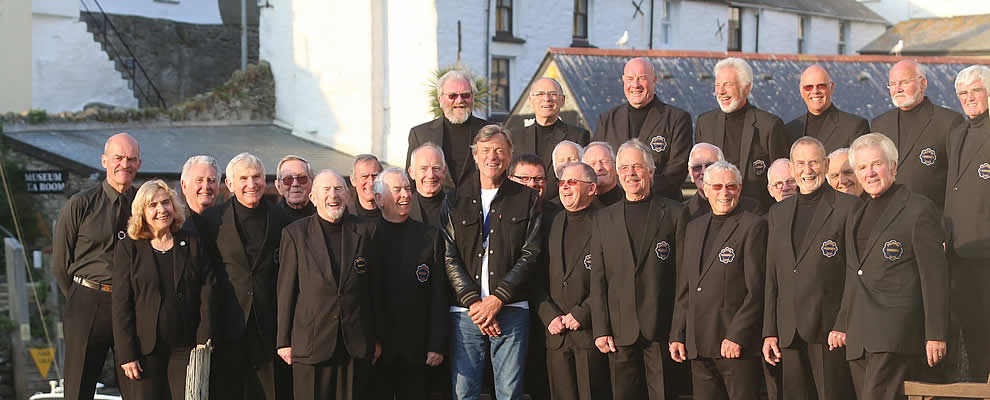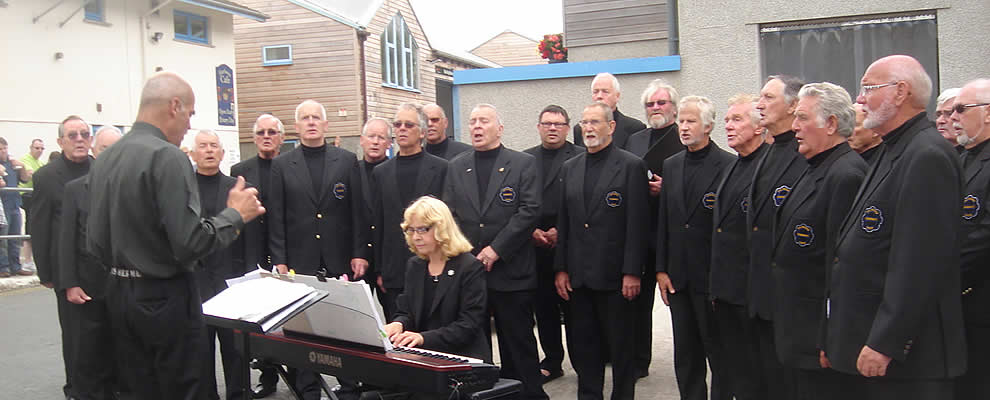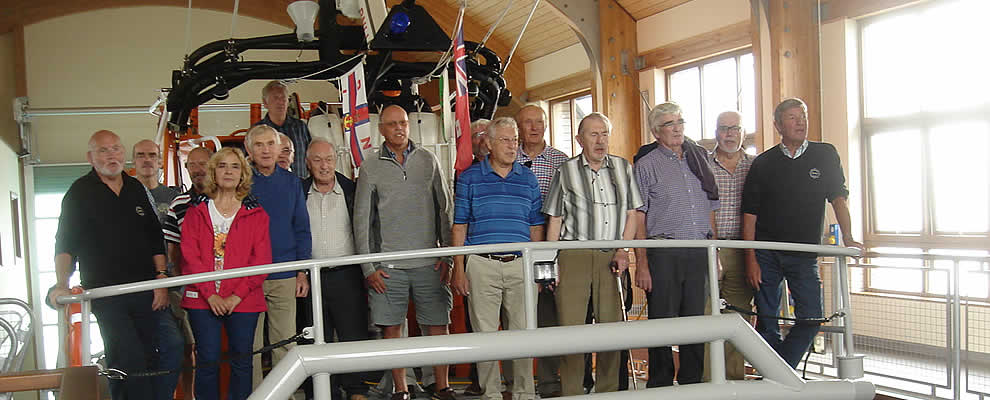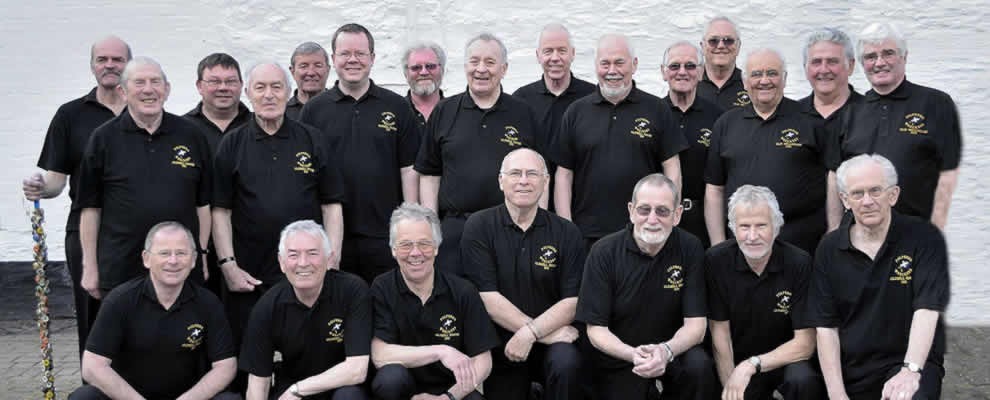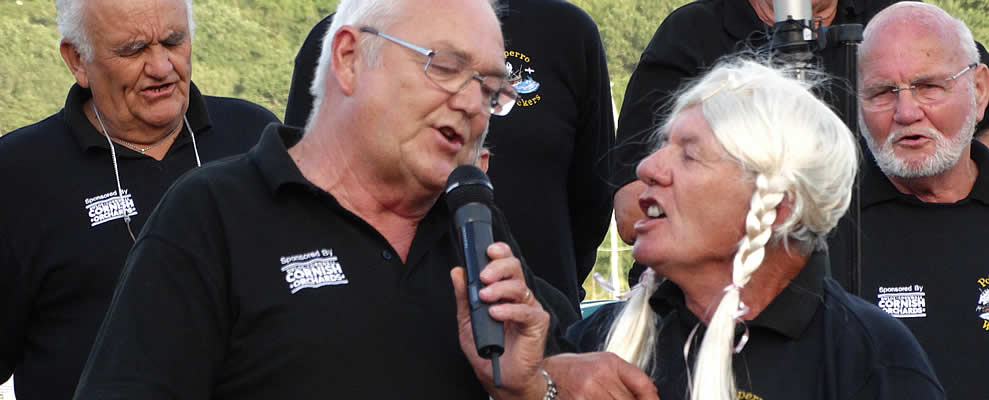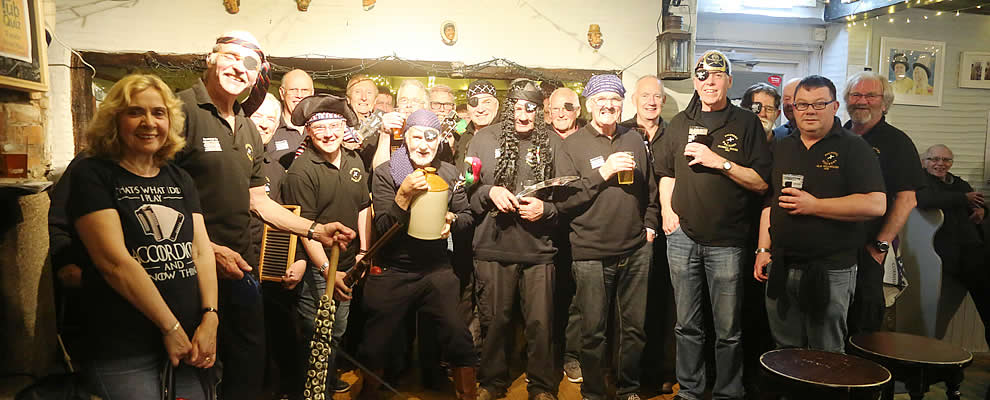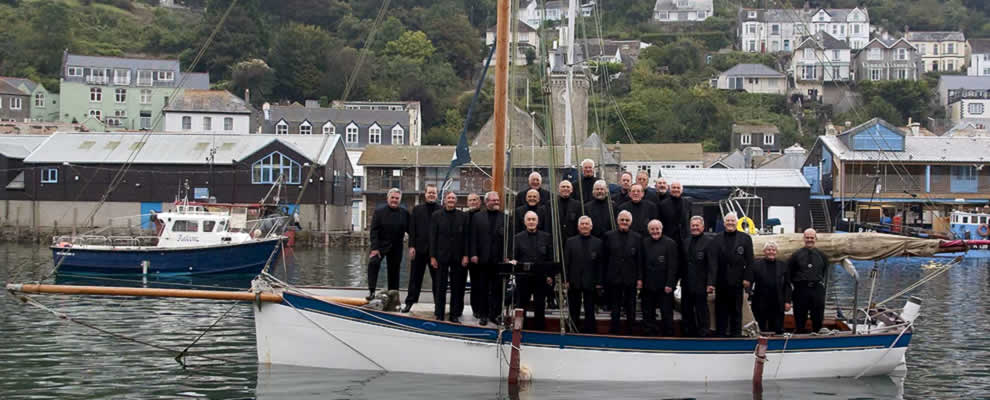 Polperro Wreckers
In August 2009 five members of the Polperro Fishermen's Choir met to form an 'afterglow' singing group with the idea of enjoying a 'sing along' after the choir's Wednesday evening practice sessions or after the choir had performed one of its many concerts. Fifteen members of the choir attended the first afterglow practice session and the group quickly adopted the name 'Polperro Wreckers' with the first gig being held just prior to Christmas 2009.
The practice sessions have themselves become performances enjoyed by both visitors and locals alike singing along to a mixture of Cornish, Shanty, Folk, and Sixties numbers. The Wreckers are all about letting their hair down and having fun. They have now performed at various venues in Cornwall and Devon with charities such as the RNLI, Shelter Box, British Heart Foundation, Children's Hospice SW, Cornwall Air Ambulance and local charities including the Fishermen's Choir benefiting as a result.
At about 9.30pm on most Wednesday evenings (in normal times!), the Wreckers can often be found enjoying themselves in a local pub in Polperro. Check below for details.
Polperro Wreckers News and Events
POLPERRO CHRISTMAS LIGHTS

4 Dec 2021

6 pm

Polperro Christmas lights will be turned on at 6 pm on Saturday 4th December. It will be quite an event, starting from 1.30 pm, with fancy dress competitions, stalls and lots of music. We'll be there, along with the Rock Choir and St Pinnock Band. Parking will be FREE in the main car park so you've no excuse for not being there. Come and get in the Christmas mood!
WRECKERS AT THE CODDY SHACK'S RNLI SUPPER

5 Nov 2021

6.45 pm

The Wreckers are looking forward to entertaining you at the Coddy Shack (at St Martins, East Looe PL13 1NX) on Friday 5th November. There'll be plenty of loud noises (us singing), bangs (on the drum) and flashes (of wit), so who needs fireworks, especially when you've got the Coddy Shack's lovely food to enjoy? It's all in aid of the RNLI. Tickets, which include a fish and chip supper plus pudding, are available from the Looe RNLI shop, or from Jeanette Deakin at juicylucy@gmail.com. Reserve yourself a place - you might win something in the raffle!
FREE MUSIC IN WEST LOOE

24 Oct 2021

6 pm

As a special treat to yourself before the clocks go back, take a stroll alongside Looe river to the West Looe Quayside Centre where you can while away an hour or so enjoying the singing of the Polperro Wreckers. Seating is available but it's not formal so you can come and go as you wish. Dogs are welcome too, especially if they give us some appreciative barks! It's all free and we hope to see you there.
100 MILE CYCLE RIDE

15 Sep 2021

Three of the choir's fittest singers have cycled 100 miles from Marazion to Polperro, via some of Cornwall's loveliest places. So far they have raised an impressive £2,110 for the 'Save Polperro Chapel' appeal. The Chapel has been the home of the choir for nearly 100 years and there is still plenty of time left to support the cyclists! Donations in support can be made at the link below or given to any member of the choir.
HERMIE HELPS THE CHAPEL!

16 Aug 2021

All the choir members are doing their best to help save Polperro Chapel so we're delighted to announce that Phil Carrigan, our favourite author (and musical director!), has written another delightful book about his faithful companion Hermie (in the photo with Phil), this time doing his four-legged best to help the Chapel. This lovely, inexpensive book really will help as all the profits will go to the Chapel appeal. It's available from the Chapel, the Choir, the Museum and the Post Office or please order direct from Phil at phil.carrigan@btinternet.com.

The front cover of Hermie's book is here
STRICTLY KEYS FOR YOUR PARTY!

From 5 Jan 2021 to 30 Apr 2021

The Choir and the Wreckers are extremely lucky to have two such talented and dedicated musicians taking part in everything that we do. You can now enjoy their talent yourself! Phil (our musical director) and Lorraine (our accompanist / composer) will bring their two keyboards with them and entertain you at dinners, parties, weddings and other events. Their album is now available, with a percentage of the proceeds being donated to the choir. You can find out more by clicking the link below, calling 07506 025858 or emailing keysstrictly640@gmail.com.