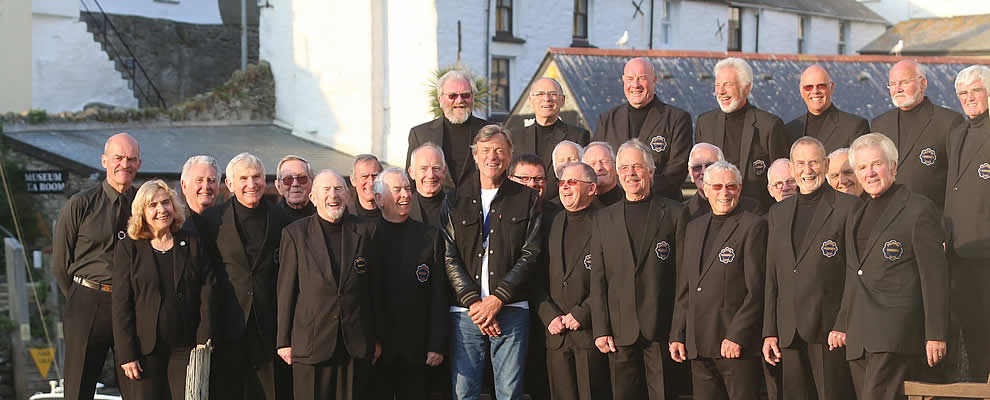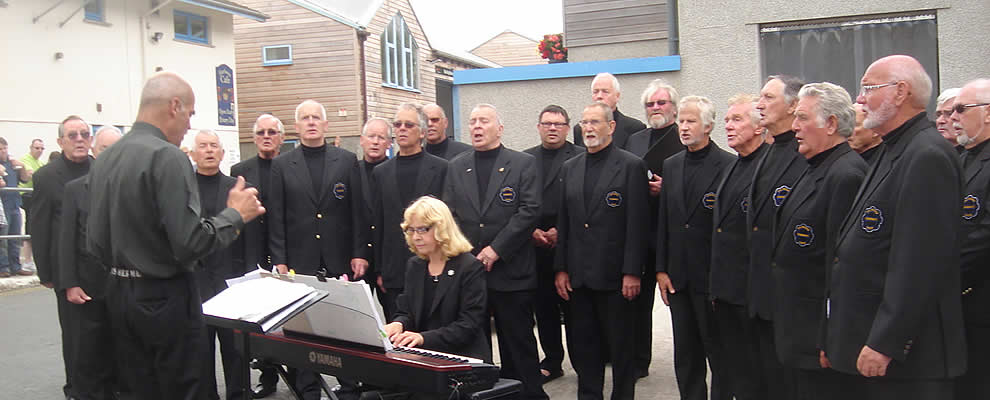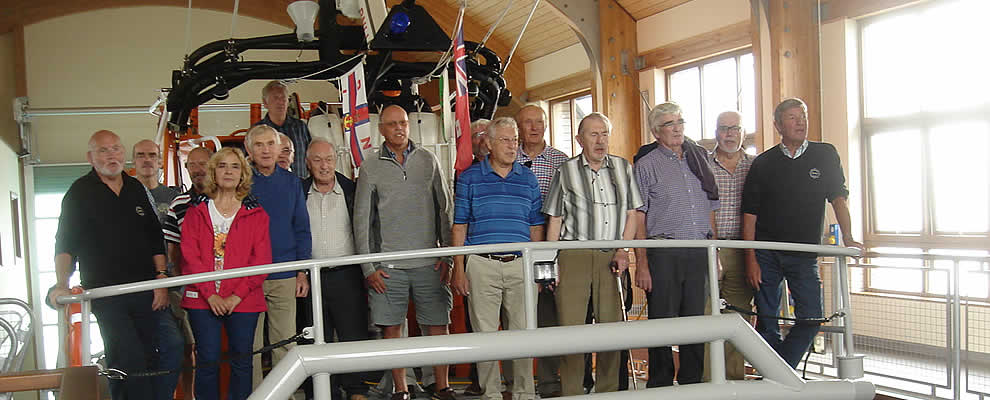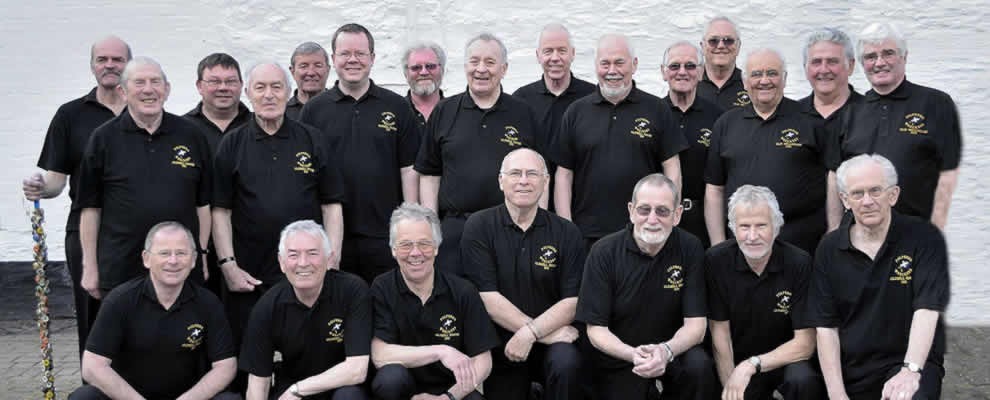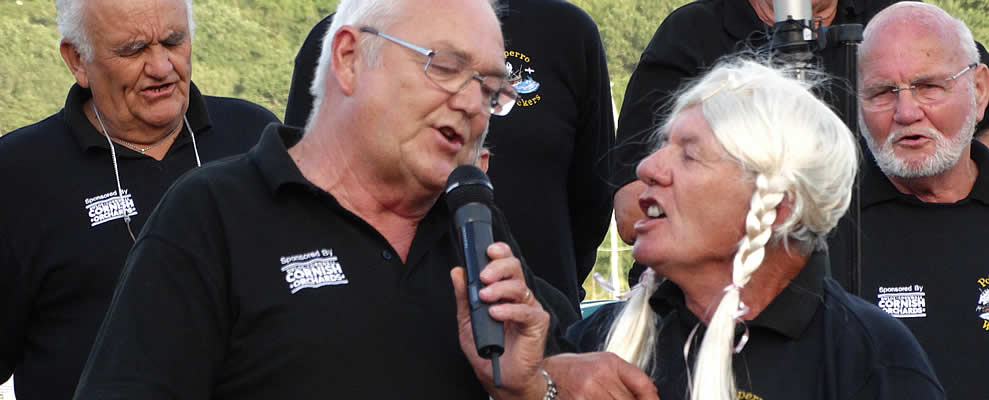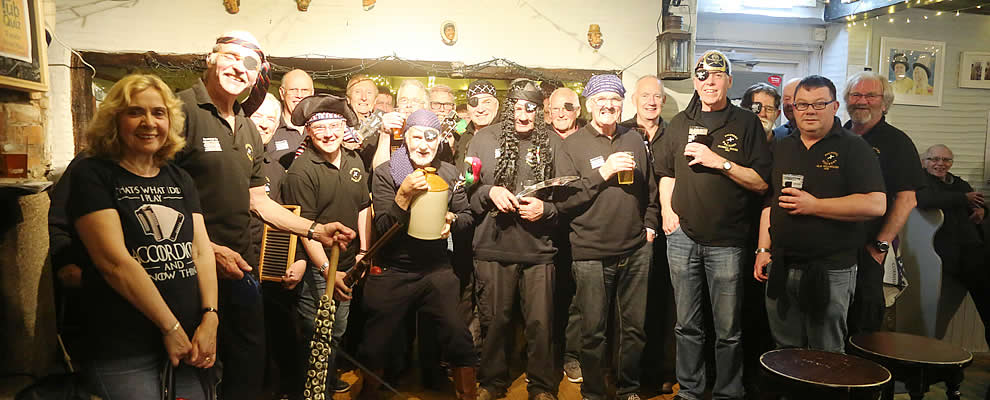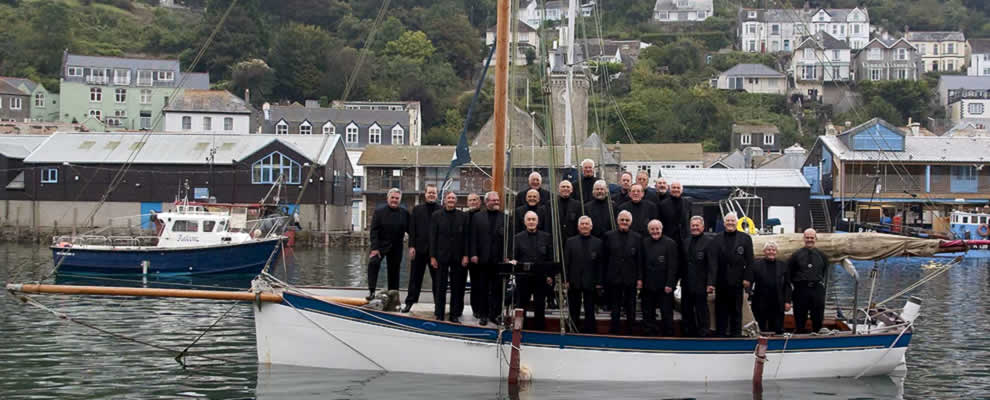 Polperro Wreckers
In August 2009 five members of the Polperro Fishermen's Choir met to form an "afterglow" singing group with the idea of enjoying a 'sing along' after the choir's Wednesday evening practice sessions or after the choir had performed one of its many concerts. Fifteen members of the choir attended the first "afterglow" practice session and the group quickly adopted the name "Polperro Wreckers" with the first 'Gig' being held just prior to Christmas 2009.
The practice sessions have themselves become performances enjoyed by both visitors and locals alike singing along to a mixture of Cornish, Shanty, Folk, and Sixties numbers. The Wreckers are all about letting their hair down and having fun. They have now performed at various venues in Cornwall and Devon with charities such as the RNLI, Shelter Box, British Heart Foundation, Children's Hospice SW, Cornwall Air Ambulance and local charities including the Fishermen's choir benefiting as a result.
At about 9.30pm on most Wednesday evenings throughout the year, the Wreckers can be found enjoying themselves in the lovely Old Mill House Inn in Polperro.
Polperro Wreckers News and Events
WRECKING THE MILLHOUSE!

24 Oct 2018

9.30 pm

As 'tis 'alf term, the Wrecking crew will be singing in the Old Millhouse in Polperro on Wednesday - but as we bain't at school we be there most every other Wednesday too. Course, 'tis just possible we might have a beer or two and lend you one of they song book things so you can sing too. Come and get wrecked cos tis a nice pub an' all an' singing tis good for ee.
CHARITY EVENT IN LANREATH VILLAGE HALL

20 Oct 2018

7.30pm

A full evening of entertainment is on offer, including a talk on Churchill's Secret Army and a buffet supper, followed at 9pm by a bit of good old-fashioned Cornish entertainment by the Wreckers. We'll be singing our popular mixture of Cornish songs, sea and folk songs, and some of our very popular golden oldie pop songs. Tickets are £10 per head from Annette Lock on 01579 343311, in aid of Cornwall Air Ambulance and Macmillan. Don't delay - tickets are selling fast! (Photo by Julie Jackson).
WRECKERS AT THE MILLHOUSE

17 Oct 2018

9.30 pm

What is there to do on an Autumn Wednesday evening in Polperro? Come and enjoy the Wreckers singing in the Old Millhouse Inn, of course! It's a lovely pub run by Rita and Brian and we'll be having a pint and a laugh from 9.30. Doctors say that singing is really good for you and you'll have no excuse because we'll even lend you a songbook!
WHERE TO FIND US IN OCTOBER

From 1 Oct 2018 to 31 Oct 2018

The Choir will be singing in Sclerder Abbey on Friday 26th October and the Wreckers will be at Lanreath village hall on Saturday 20th October. Not forgetting, of course, that the Wreckers will be generating plenty of hot air in the Old Millhouse Inn every Wednesday evening!
THANK YOU IN OUR 95th YEAR!

26 Sep 2018

After 95 years since the choir was formed in 1923, it's lovely to be able to use our special anniversary to thank our amazingly generous audiences and supporters. So far this summer, with more concerts to come, the choir and the Wreckers have helped raise nearly £425 for Cornwall Air Ambulance, over £555 for Liskeard Hospital's Triangle Centre for patients and their families affected by cancer, and around £1400 for the RNLI in Looe, Fowey and Polruan, plus other generous donations. Over £2800 has been tossed into the collecting buckets! Thank you all, lovely people!