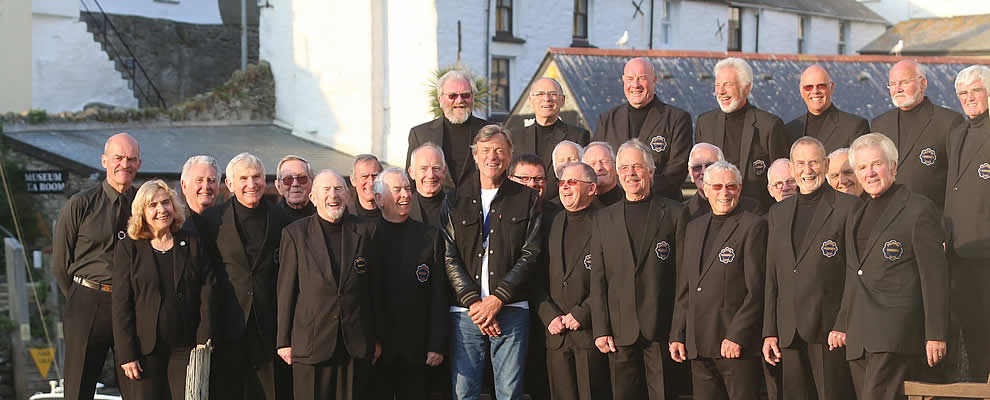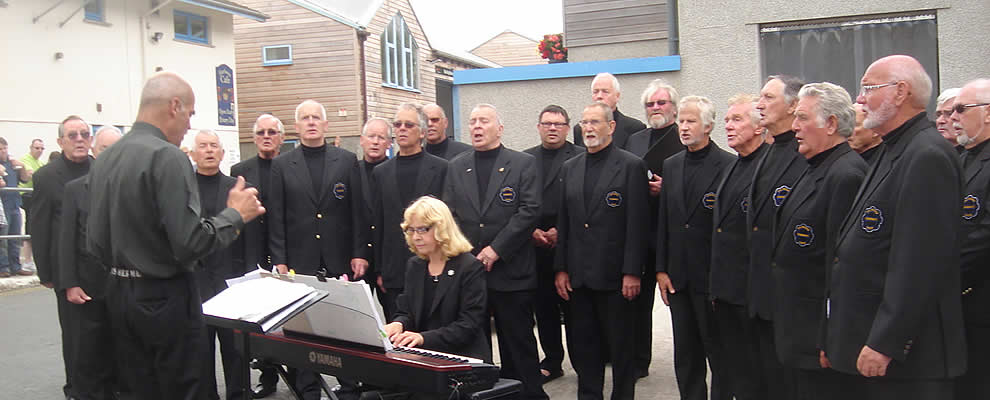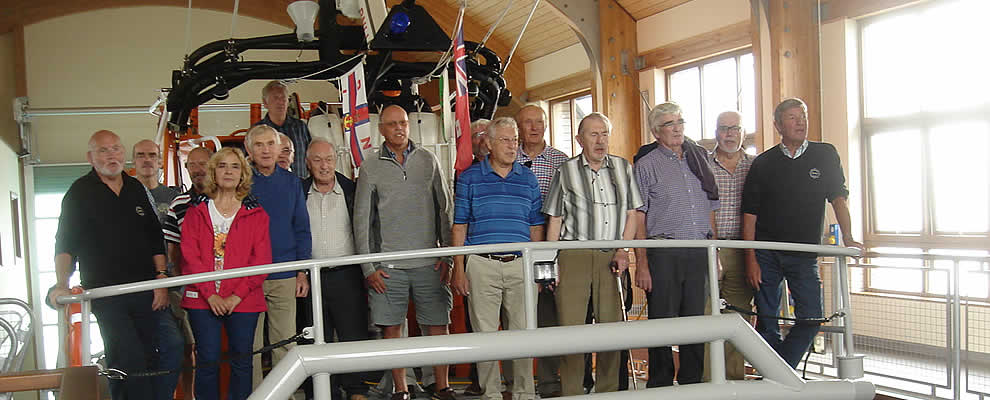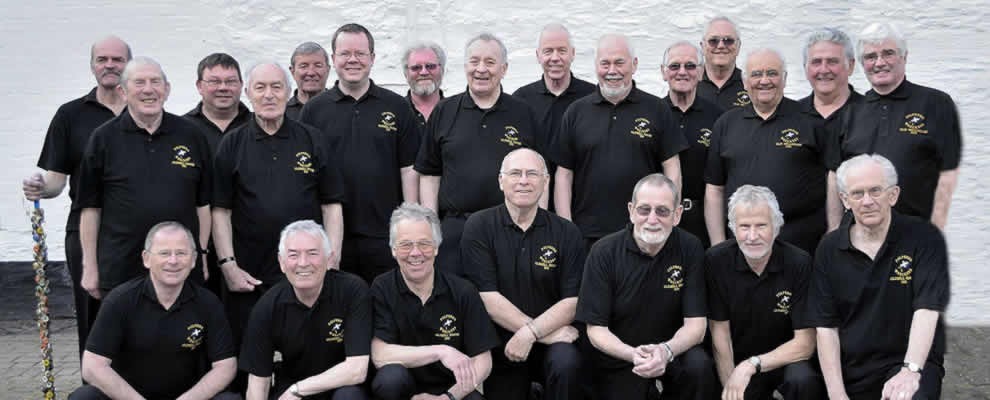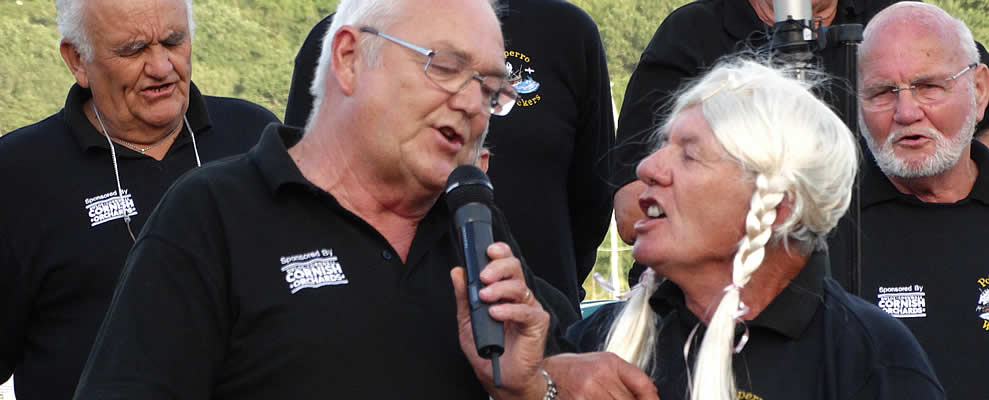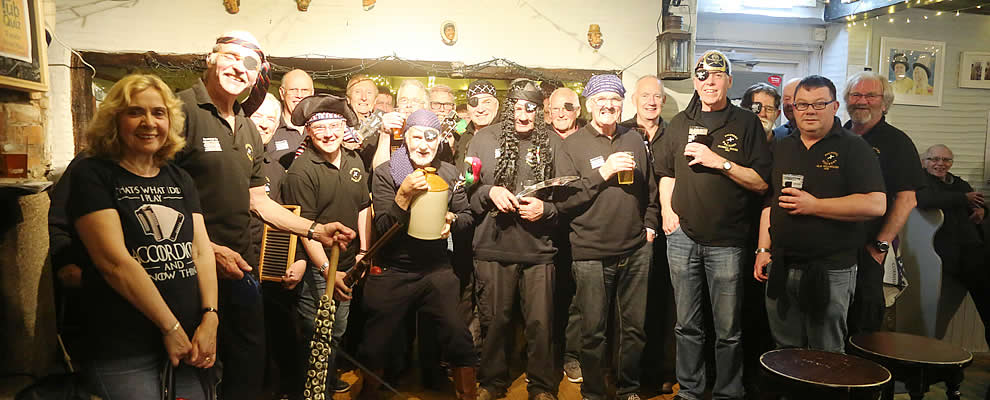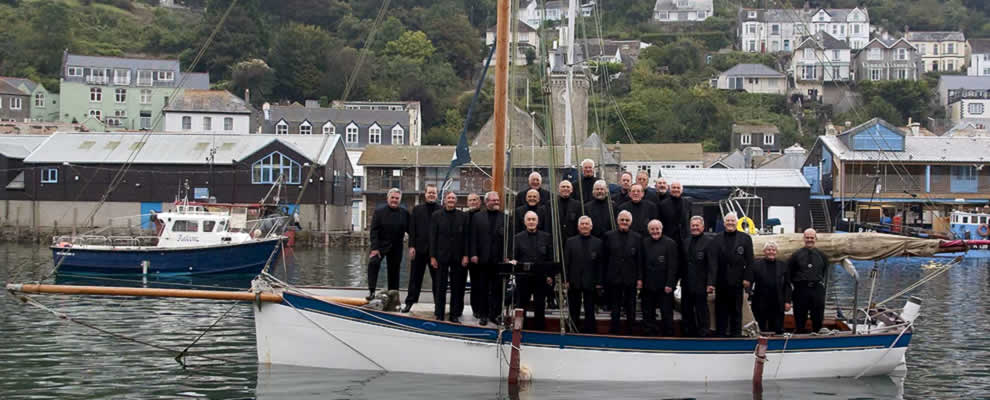 Polperro Wreckers
In August 2009 five members of the Polperro Fishermen's Choir met to form an 'afterglow' singing group with the idea of enjoying a 'sing along' after the choir's Wednesday evening practice sessions or after the choir had performed one of its many concerts. Fifteen members of the choir attended the first afterglow practice session and the group quickly adopted the name 'Polperro Wreckers' with the first gig being held just prior to Christmas 2009 - so 2019 is our tenth anniversary year.
The practice sessions have themselves become performances enjoyed by both visitors and locals alike singing along to a mixture of Cornish, Shanty, Folk, and Sixties numbers. The Wreckers are all about letting their hair down and having fun. They have now performed at various venues in Cornwall and Devon with charities such as the RNLI, Shelter Box, British Heart Foundation, Children's Hospice SW, Cornwall Air Ambulance and local charities including the Fishermen's Choir benefiting as a result.
At about 9.30pm on most Wednesday evenings (in normal times!), the Wreckers can often be found enjoying themselves in a local pub in Polperro. Check below for details.
Polperro Wreckers News and Events
WRECKERS AT PORT ISAAC SHANTY FESTIVAL

19 Sep 2021

Daytime

Having been confused with the (very slightly) more famous Fishermen's Friends a few times because of our choir name, the Wreckers are singing on the Friends' home ground at the Port Isaac Shanty Festival once again! This year, it will held on the Port Isaac playing field, in the marquee and on the Galleon main stage. The Shanty Festival starts on Friday 17th, with over 30 other bands and singers, so why not make a weekend of it? Make sure you stay until Sunday, though!
HERMIE HELPS THE CHAPEL!

16 Aug 2021

All the choir members are doing their best to help save Polperro Chapel so we're delighted to announce that Phil Carrigan, our favourite author (and musical director!), has written another delightful book about his faithful companion Hermie (in the photo with Phil), this time doing his four-legged best to help the Chapel. The book, which costs just £9.95, really will help as all the profits will go to the Chapel appeal. Please order direct from Phil at phil.carrigan@btinternet.com.

The front cover of Hermie's book is here
WRECKERS IN FOWEY

7 Aug 2021

6pm

The Wreckers are delighted to be singing at the RNLI's beer and shanty festival in Fowey on Saturday 7th August. We'll be hoping for your help in raising some money for the wonderful RNLI while we join forces with others to entertain. As well as shanties, we'll be singing a mixture of Cornish songs, folk songs and some of our very popular golden oldie pop songs. (Event subject to any Covid-19 restrictions.) Photo © Fowey RNLI / Paul Williams
WRECKERS GIGS IN POLPERRO

28 Jul 2021

Sensible precautions while the infection figures are high mean that the Wreckers will not be performing in the Ship Inn in Polperro at the moment. We hope to be singing there on Wednesday evenings later in the summer but we don't yet know when. Please keep checking this website or our Facebook page for details. In the meantime, you never know, you might spot the Wreckers popping up elsewhere! [Photo by Zoltan Tasi on Unsplash.]
WHERE TO FIND US THIS SUMMER

From 27 Jul 2021 to 30 Sep 2021

Due to the delayed easing of lockdown restrictions, this is what we think our programme will now look like, all being well. The concerts are open-air only so will be cancelled if wet. Click on the link below for a full-size version of the programme which will be easier to read. As well as the events listed, the Wreckers hope to restart singing in the Ship in Polperro on (most) Wednesday evenings in a month or so, when we're able to keep everyone safe from the pesky virus. We're thirsty so the sooner, the better!
GIFTS FOR FANS!

From 20 Jan 2021 to 30 Apr 2021

Although we aren't able to give any live performances at present, we do have the perfect gift to make up for it. Our latest Wreckers CD is 'Wrecked at the Millhouse' and is available for just £9.99 including postage and packing. For more details, have a look at our on-line shop by clicking on the link below.
STRICTLY KEYS FOR YOUR PARTY!

From 5 Jan 2021 to 30 Apr 2021

The Choir and the Wreckers are extremely lucky to have two such talented and dedicated musicians taking part in everything that we do. You can now enjoy their talent yourself! Phil (our musical director) and Lorraine (our accompanist / composer) will bring their two keyboards with them and entertain you at dinners, parties, weddings and other events. Their album is now available, with a percentage of the proceeds being donated to the choir. You can find out more by clicking the link below, calling 07506 025858 or emailing keysstrictly640@gmail.com.